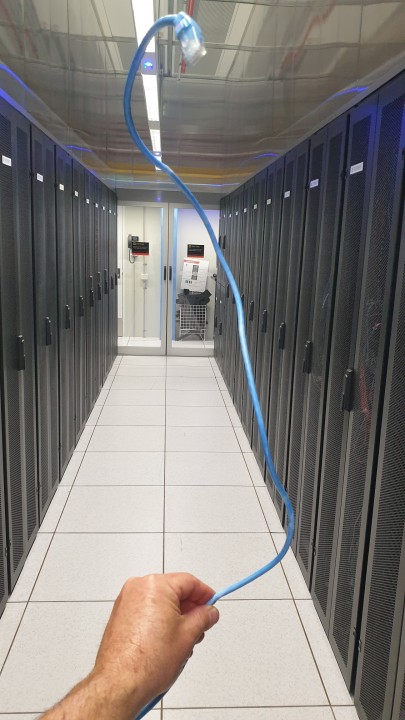 Migrating Legacy Systems To Cloud
From (great) Old Hardware To Fully Managed Cloud
This week we helped a new client migrate off old server equipment originally purchased back in 2011.

The client was running an in-house application for CRM and order tracking on (great) old HP hardware for many years, mostly without too many issues with the exception of rising power costs and anxiety if the server ever needed a reboot!
A recent office move was the right time to re-evaluate if it was still worthwhile running their own server hardware, maintaining a locked room with cooling and UPS which also had battery issues.
Cloud365 designed a solution to migrate their application to our fully managed platform. This included a pre-move (very manual) backup followed by shutdown and (very careful) relocation of old hardware into our Melbourne Datacentre.
Here's one of the Ethernet cables originally used. We're not sure of the age, but it's certainly 'standing' the test of time!
The hardware was relocated on a Friday night, then over the weekend we were able to migrate their Operating System, applications and databases onto our Cloud platform. On Monday morning all databases and applications were running as they were before, but virtualised (hardware anxiety sorted).
Then we were able to take a complete copy of the client's server environment which was upgraded to a newer release Linux Operating System and Oracle database server software.

Once tested, we were able to switch the upgraded environment live and restore a current database backup before enabling business as usual access.
For our client this was a reasonly large undertaking since they no longer had staff who were onboard at the time of original server hardware purchase, in addition current system administration staff were more application focused than Operating System or database server admins.
Cloud365 provides our client with System Administration at Operating System and Database Server layers, alongside our fully managed cloud service including monitoring, alerts and daily backups.
We'll also be providing a database replication service between our Melbourne and Sydney datacentres, with our Sydney facility available to staging or Disaster Recovery.

I thought the client's original HP hardware served them well and I was happy to let them know Cloud365's Managed Cloud platform is also based on (much newer) HP Proliant infrastructure. The cost to run their fully managed service with Cloud365 is less than maintaining their own server, electricity and airconditioning costs.
We also designed and deployed a fully managed Hosted PBX Service for the same client, removing the need to manage their old clunky phone system hardware... but that's a separate story I'll tell you another time :)
If your business has a challenge like this, I'm sure we can help.
Please feel free to reach out and thanks for reading.
Need Help?
If you have a question about Migrating application to Managed Cloud, ask a question or call our team.
Contact Us
Ask Us Anything.